This is a page for all those stories we could tell but only 51 blokes would appreciate. I would like contributions from any one who can put a few words together so feel free to send any stories but please keep it clean. Save the rougher stories for the reunion.
Here's a few tales from the Orient that may jog some memories and cause a few smiles.
My name is Ginger Miles and I was posted to 51 at RAF Seletar to join the REME LAD, it was my first attachment to the RE's and was to set the future scene with subsequent postings to 25 Engr Regt at Osnabruck and 35 Engr Regt at Hameln to follow. I had great times with all but somehow 51 was the one.
I was already Singapore blooded having been stationed at another unit on the other side of the island at Rowcroft Lines, but Seletar was something else, almost like a town within a city.
All these years later I remember some of the blokes like it was yesterday.
Billy Eathorne of the rubber face, it was so sad to hear of his passing. Robbo, Pretty Bobby Booth, Jed Vickers, who was called Z Victor 1, after the TV police programme, Monty, Dippy, Keith, Bernie McFee Paddy, Pete Connor, Geoff Slack and all the others whose names escape me for the moment. Glad to see that most of you are still vertical. I was only 19 at the time, 65 now, so I was a bit wide eyed at all the adventures we had.
What about Kota Tinggi when Beaky the plant QMSI used to pay us in the NAAFI, then take his armband off and join the fun. Then delivering him home to Singapore in Monty's land rover with the tyres squealing on the twisty bits down the Johore road.
One time I was rushing back from the airfield so as not to miss pay.
I was sat down with the first pint of Tiger on the go, when someone said, " what's that smoke"
I looked down into the car park and its my 3 tonner on fire with loads of fuel on board. A jerry can had gone over and dripped on the exhaust. One of the blokes had the presence of mind to very coolly grab an extinguisher and put it out, then it was straight back to the Tiger before it got warm.
Then there was the night down on the airfield, where things got a bit out of hand with the drink. I wonder if Bobby Booth still has the Dunlop Trak Grip scar on his leg!
The same night taking another bloke, (cant remember who it was), to the Royal Marines camp up the road and the Marines guard commander trying to lock him up, and a hell of a scrap starting up in the guardroom.
Then there was Marang.
I remember on the way up with the advance party we had a water trailer throw a wheel and it was left at a Malay Army camp.
We went back to fix it a few days later, and got it back as far as Kuantan. By that time it was getting late so we decided to kip there and carry on in the morning.
I left early with the 3 tonner and water trailer, and the Land Rover followed.
We bowled along enjoying the scenery and the Landy overtook. I realised at that point that there was a bloke missing. I hooted and flashed the lights, but they waved and carried on. I had no fuel to get back to Kuantan so had to press on to Marang.
Then I had to go back and get a very pissed off bloke.
He had gone for a slash, when he got back we were gone. Each of the vehicles thought he was in the other one
Oh for a mobile phone.
Shortly after that I borrowed Paddy's motorbike to go for a wash down at the beach, and on the way back came face to face with a 3 tonner on the access road and had to abandon ship.
I was only wearing flip-flops and shorts so gravel rash was extensive. So that was me, off the job and back to Seletar.
That's it for now …
more later perhaps…..
Regards to all……
Ginger Miles
1966 and all that
(Or how I finally became slightly interested in Football)
Now I have never been much of a football Fan. I never could understand the need to talk about the missed goal or might-have-been penalty for hours on end.
I did not connect with the lads who wore scarves in the local team colours. Many a decent conversation about the secrets of the universe or some such intellectual discussion was ruined when some idiot said, "What about that Goal last
Night" and the search for the answer to creation would be gone forever.
I swear that the human race would have progressed way beyond the need to fight wars if they didn't spend so much time talking about football.
For instance I never rated George Best as anything more than a reasonable player and I saw many other footballers score equally brilliant goals that no one seemed to comment on, but Gorge was talked about and venerated like a God.
The adoration and fans buying him drinks would cause the death of the poor fellow. The only time I met George was on a landing at HMP Pentonville. I walked past him and found other officers asking him for his autograph. Poor man didn't even get a break from it while he was in prison.
When I saw him in interviews later in his life he seemed bewildered that the drink had caused him such a problem.
All the hype and hot air resulting from things like that and other stories left me totally uninterested in the game of football.
So in 1966 when England was in the Final of the World Cup I had almost no interest at all. More especially as we were in Singapore, seven thousand miles away from the main action.
I went to bed at a reasonable time as payday was a few days away and I did not have enough for the Malcolm or NAAFI clubs. No thought of Football on my mind.
Now at that time we didn't have computers, mobile phones etc but we did have radio and TV. Important events could not be transmitted To TV over great distances because we did not yet have the orbiting communication satellites.
We did have transistor Radios but you needed a radio with a bit of Power to pick up a decent Live world Service Broadcast.
The problem was, the only place to get the best reception of the world Cup was by using the plug socket at the side of my bed. Or that's what everyone said.
Now the army is a strange place where you get used to sleeping through all sorts of noise and people using your bed as a park bench while they spoke to the lad in the next bed, or played cards etc. Usually I slept through everything with no problem but this time it was different because this was a crowd of lads who were full of beer and all worked up in anticipation of the coming match.
Nevertheless I still attempted to sleep.
My problem began when I found my self half listening to the commentary and slowly coming awake I was drawn in.
The man was saying that England was winning although there seemed to be a bit of a dispute about the score and apparently the Germans were a bit irate.
England winning? It just wasn't possible. We never won anything except Wars. The World Cup, the Rugby or the Ashes were usually quite beyond us.
Now I was wide awake and holding my breath until the words " They think its all over, Well it is now" With that the room erupted and we were all cheering and the whole block was joining in. we could also hear the distant cheers from the RAF blocks across the square.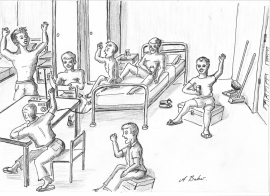 We celebrated as people brought out stored beer and spirits and shared it round.
From all this you probably assumed that I was then converted to the ranks of football supporter.
Sad to say by the end of that week I was so fed up with hearing about England's win I was put off football again.
My only interest was a vague perusal of the league table to see how Wolves and Villa had got on.
The purpose of this missive is mainly to recall how the magic of Radio for a moment joined us to our English roots so far away and made even a bloke like me become a fan for just a moment in time.
Alan (Beef) Baker
A story about Barry Duckhouse
Now as story telling material, Barry was a gold mine. I could fill a book but in respect for people still living it is perhaps better that I don't.
However this is the one that always comes to mind whenever I think of him. As with all good stories different versions may be told but the essentials are the same.
Barry (or Brummie as he was mostly known) was duty Regimental driver at Waterbeach Camp. The duty meant that he would be on call for general transport duties and be on call for the Duty Officer
At about 1900 hrs after the Guard had paraded and everyone was settling in to the normal routine Brum approached the Orderly officer.
"Sir can you sign my work sheet so that I can pick up my wife from the railway station"
The young lieutenant saw no harm in that as it was only about half an hours drive away. So he signed it with a smile and thought nothing more of it.
About 2300 hrs everyone noticed that Brum was still not back. Another driver was found to drive the route and check on Brum's local address but there was no sign of him or the duty Landrover he was driving.
The next day he was still missing and it was all a mystery as the police were informed.
The very next day Brum drove through Waterbeach gates and parked up. He said "I'm back and I will just put the Landrover back in MT." As though nothing was amiss.
The RP Staff were flabbergasted and immediately bundled him into the guardroom and put him in a cell pending investigation and he was eventually put on a charge.
The CO asked him why he had been absent. Brum replied, " I picked my wife up from the station and dropped her off at home". Then he added " I had permission and the Duty Officer signed my work sheet".
"Well" said the CO, "That should have only taken you about an hour or so to pick her up from Cambridge station".
"No sir it was Walsall station and I stopped at me brothers house for the night before coming back"
The CO while trying to hold back the laughter sentenced him to 28 days in the Guardroom.
As with all the stories about Barry they don't just end there.
While doing his time in the guardroom he was put into the exercise yard, which had, walls around 14 feet high with razor wire on the top. He had run out of tobacco and no one would give him a cigarette or a smoke.
There was a window looking out on to the exercise yard. Brum used this to give himself a boost and flipped himself over the wall and the wire on to the flat roof. of the Guardroom. scrambling over the roof and dropping off down the other side. He then went down to the local pub and got a mate to give him some fags and a beer. Which took about an hour all told.
As it was quite a mild day the RP staff had not thought to check on him in the yard and were just thankful he wasn't being his usual entertaining self and leading them a merry dance. (He loved winding the RP Staff up)
Imagined the RP Sergeants consternation when Brum tapped on the window and said, "You can let me in now I have had my fag and a pint"
Barry was the only man I have ever known who could run up a 10-foot wall and get over without assistance.
I will miss him and will always remember him fondly. Rest in peace Mate.
By Alan Baker June 2012
---------------------------------------------------------
Allen (Monty) Mountford
(illustrations by Alan (Beef ) Baker)
From a very early age got the nickname Monty,
Mates during those early years the Mill Hill group Barry Pender, Billy Butters, Brian Salt, Tommy Meigh, Mickey Meigh (sorry if I left anyone out)
Left school august 1959 no formal qualifications,
Brian Salt and I would think nothing of cycling to Buxton for the day taking only, a bottle of water and a sandwich about 50 odd miles, and even Blackpool 97 miles each way.
Had numerous jobs in and around the pottery industry, joined the territorial army early in 1961 Royal Engineers, found out I had a good eye for shooting with the old Lee Enfield 303.
Went on a summer secondment to Scotland and learned a lot about explosives and how they work (P E 808 in those days) working with it used to give us a blinding headache.
We spent 3 weeks demolishing old WW2 ammunition bunkers on the coast near Ayr. Its wonderful what you can do with a bit of plastic and washing line, had to wait untill Ii was 18 in July 1962 to enlist in the regular army (Royal Engineers).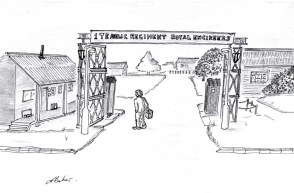 While waiting for my intake in October me and my mates went to the local fair and after winning a few coconuts or 12 for family and friends by shooting the strings the stall refused to let me try again. I remember Del Shannon (Runaway) was no1 at the time and then in October it was Brian Hyland (sealed with a kiss).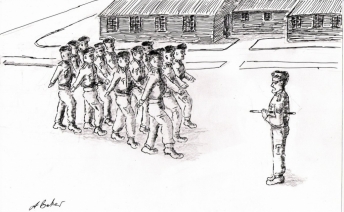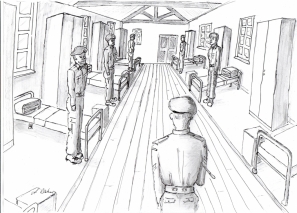 Started basic training late October then driver training, passed my test in the winter of 1962 that was a bad one the instructor said if you can drive in this you can drive in anything and he was right. We went down to the south coast for more training and the sea was frozen for about half a mile out.
Enjoyed most of the specialist training especially explosives,(The RE build it or blow it up ).
After basic training posted to Nienberg in Germany (a beautifull little town on the river Weser) Member of 2 troop when we won the Niemeagan march and we built a heavy ferry and got a tank across the river at Hamlyn (of pied piper fame) in a record 57 minutes (there was a secret to that).
Radio operator in those days drove a ferret scout car 00EA07.
I remember one day in camp the MT officer asked if anyone could ride a motorbike and I said yes (he never asked if I had a licence which I did not) Anyway I had to go to the HQ block and pick up a dispatch folder and take it to Paderborn. To cut a long story short, for 5 days I was sent from one place to another until, finally back to Nienberg, tired but an accomplished motorbike rider. (Never did get my motorbike licence until Singapore)
Travelled all over Germany even went on the SAS selection course at Hereford I think I lasted all of 5 days. Pen y fan did it for me boy was I immature.
Last 3 years 51 Field squadron (Airfields) RE, formed up in Ripon Yorkshire in July/August 1965.
Went on an NCO course there came 8th out of 32 but no chance of promotion because the SSM had a grudge against me.
Had me up on a charge for disobeying orders and would not let me speak to say I received later orders from Sgt (jock) Sword MT troop.
The CO threw out the charge and I believe SSM was reprimanded but that was the end of my promotion hopes.
We had a practice run as airfield construction by going down to Bedfordshire and building landing pads and setting up refuelling facilities for the (then) new Harrier jump jets in the middle of a forest. It was marvellous to watch them land amongst the trees.
Flew out to the far east (I think we flew from Newcastle Manchester stopping at Colombo Ceylon (Sri Lanka) to refuel (propeller planes in Those days).
Based at RAF Seletar on Singapore island, spent only a few months actually in base. Preferred to be up country in Malaysia and Thailand with a few days in Borneo actually doing something constructive like building airfields and roads. (there's nothing like getting to a place in the jungle and building an airfield or road where there was nothing)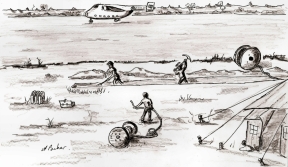 Helped to build an airstrip in the middle of a rubber plantation just north of the causeway onto Malaysia near the jungle warfare school. (can any of the lads remember the name of it)
I can remember myself, and, my mate Roger Connolly, who, came from Alsager in Staffs flying up to the strip squeezed in the back of a little plane with an army air corps pilot. Looking up at coconuts on the trees as we flew past and landing on a 100 metre strip surrounded by trees (happy days without all the army bull and doing something worthwhile).
We even had a visit from a photographer for an article to go into our local papers at home. it took my mum months to find The article in some obscure local paper.
We had a plant foreman WO11 in charge of us (Beaky Beacroft) he liked a drink. We heard he had been involved in the cleanup at Belsen at the end of the war so we couldn't blame him. He was a great bloke as long as you did your job he left you alone. He did get me to drive him home a few times when he was plastered. He always said his wife wouldn't shout at him when I was there. Beaky, Roger Connolly and myself were left to look after the plant on the airstrip a few times (he didn't have to be there but he could have a drink on site)
One night we ran out of beer and he decided we should go to the nearest Kampong but we had no transport. By this time he had had quite a few so he jumped into a grader (leaning wheels and a damb big blade only one seat me and Roger just hung on).By the time we got to the Kampong he had taken out about half a dozen road signs and a tree. Anyway we had a few more beers (he had a lot more) and roger had to drive us back as he was the plant op.
Beaky once fell out of a land rover as I was driving him home at least 25 mph and he bounced into a monsoon ditch. All he had were a few scratches and bruises it seemed to happen in slow motion one minute he was lolling against the door and then he just seemed to slide out.
Another thing about WO Beacroft he was always ready to help out, while on base I mentioned about my motorbike adventures in Germany and he took me to the MT pool signed out a bike and a landrover. He put me on the bike and said " follow me" which I did all around Sigapore and when we got back he signed of on my licence. He did this with various machines until I had a licence for just about anything. I found out I had a touch for hydraulics which came in very handy in later life.
Another friend I will always remember from Singapore was Terry (Nolly) Nolan he was married to a lovely German girl named Helga. I think Nolly came from the Litchfield area. When on base they used to invite me to their married quarters for Sunday lunch and card games especially Canasta, I got to be quite good at it but haven't played since.
Helped to build another airfield north of an enormous tin mine (Meringi or something very similar) Terangganu province I think.
We started with minimal equipment and then got a heavy air drop of major equipment. It was fantastic to see a bulldozer (Vickers Vigour) come out of the back of the aircraft (Beverly, flying boxcar) and the parachutes bring it down safely. I think we spent about 8 or 9 months living in tents ( does anyone remember how we kept a preying mantis as a pet on a lead to eat the insects) Also sorry to say now but killed a cobra and used its skin as a hatband.
We somehow acquired an old ex army matchless motorbike which we used as a scramble bike thrashing it around the jungle using aviation fuel,( that didn't do the engine much good,)
Also on this job we got to use an assault boat with outboard on a recreation trip to a coral island a couple of miles off the coast,
A wonderful place snorkelling on the reef all day, if you haven't seen a coral reef in full bloom from close up you haven't lived. Unfortunately I killed a stingray with a spear gun something I've always regretted (I told you I was immature) On the way back in the boat we ran into a real South China sea squall. It came out of nowhere we had to keep heading directly into the waves and then a dash sideways heading to the beach, which we eventually reached. We had to drag the boat up the beach to make a makeshift shelter and wait out the storm (still got the photos)
They sent a search party looking for us the next day but they didn't have to bother we were just about to make our way back to base.
After that we went back to Singapore for a month before going up into Thailand to build a road It was close to the Cambodian and Vietnam borders so we were all a bit twitchy.
We just started facing a wall of jungle and set off cutting and bulldozing our way forward, building bridges and culverts and forming a new road. I think we went about 20+ miles, at this time 1967 the Vietnam war was in full swing and the Yanks were using a large airbase at a place called Ubon. We used to see the phantoms taking off with full load of armaments and rendezvous with tankers to top up their fuel before heading off into Vietnam. We even got to visit the US base and the PX store (like the British NAAFI shop but a lot bigger).
It was nice to see how the other side lived (ice cream, fresh milk which we hadn't seen for about 3 months) ah well that was the yanks for you.
Tried for promotion again late in 1967 and got to see (with the help of a friend in the orderly office) a note written by the SSM (no chance never). This decided me to put in my notice so to speak, to leave in October 1968.It didn't help when people who got drunk and smoked weed every night got promotion because of who they drank with.
About this time we were due for the 10-mile bash and fitness test and the SSM as in Ripon decided we needed to practice for it. So we were doing marches all over (strangely senior NCOs were excused as were a lot of married men). He probably thought the Russians would give us plenty of notice before any aggression started. I had a dodgy knee and I struggled to stay in step. The Cpl in charge started to get on at me and the more he shouted the more I played up (bloody minded).
After that I know for a fact that certain officers and Senior NCOs were taking bets on whether I would finish the march so when we started I asked the Sgt if I could jog in front. He said ok so I set of and eventually passed all but the officer in the lead. He told me to stay behind so Ii finished 2nd out of the whole squadron even jumped the ditch and carried the officer across my back. See what I mean about bloody-minded. I know it cost some people a lot of money.
Used to go fishing in the local ponds and myself and Bob Booth I think fished in a competition 4 consecutive Sundays 4 hours each day. On the last minute of the last day I caught the winning fish. The prize a full size upright Singer sewing machine (Ii don't know what the hell they thought I was going to do with it I couldn't even get it back to camp so I swapped it for the second prize of a fishing reel.
Early in 1968 April I think, we flew back to the UK and I spent a couple of months driving cadets on exercises on Dartmoor. I even played in a football match against the warders of Dartmoor prison where unfortunately one of the warders suffered a broken leg. He just happened to be a top table tennis player and it put him out of the championships.
I can remember having a drink in the pub at the end of the road leading to the prison leaning against the bar and feeling hot breath on my neck. When I turned round I was face to face with the biggest dog I had ever seen even sitting it came up to my shoulders. (Talk about the hound of the Baskervilles).
Even my demob they couldn't get right. The procedure is supposed to start getting you ready for Civy Street a couple of months beforehand.
With 3 weeks to go nothing was mentioned. Then I was called to a class where everyone was asked their demob date, Sparks flew when I said "3 weeks time". Within 4 hours I was on my way home 24 years old and a lot wiser. I often wonder what would have happened if it got to the 28th Oct and I just walked out of camp.
In 1969 started my Civy life driving a truck for a Builders Merchant (sand, gravel, cement, bricks etc.
Married Anne 1970 had 1 son Wayne (born on my birthday 13 July)
I was in a bit of a rut for20 odd years I suppose. I had a heart attack that I didn't know about in 1994 and had to stop working.
Anne left in 1994 and divorced1995 this was a dark period of my life.
Then I met Susan my soul mate she just walked into the white horse pub where I was running a quiz night. It was as if a light had switched on, she said a few things that made me smile and think. I didn't really pick up the hints, it was only when a mate at the pub sat us down together that I finally got the message. I'm just glad Susan was persistent anyway we have been together ever since. Although we have had disagreements sometimes, nothing serious. We got married in 1997 and I promised I would try to give her a golden wedding anniversary (I have get to 102 but I will try).
We had only been married for a few months when we got Susan's 2 grandchildren Danielle and Sam to live with us full time for about 5 years. We had to move into a bigger house, as they both needed their own room.
My son Wayne had by now married Anita and they had two children Rebecca and Daniel and strangely enough both boys and both girls are roughly the same age. They are all quite grown up now both boys 18 this year within a week of each other.
Rebecca is now working and living with her partner.
Danielle has been with her partner since she was 14 she is now happily settled in her own home with Marny. They have two beautiful boys named Jaleel and Jahan.
I am now 66 and officially retired but have started doing a few hours a week as a barman at our local Workingmen,s club in Goldenhill which I quite enjoy.
We go to the club on a Sunday night with Susan's sister Nancy and her husband Benny. We have been learning sequence dancing also at the club on Thursday nights and I must say I've never been happier and with no lasting side effects from the heart attack I'm in reasonably good health.
Anyone from 51 squadron who remembers Monty get in touch.
Just found some old photos from Malaysia and looked up the location on Google Earth (its now RMAF base Gong Kedak) near Pasir Puteh in Kelantan province.
Do any of the old army pals still have the old army habits, I can't go to bed at night without setting everything out ready for the next morning (cups, plates, pills & clothes etc) or am I just unusual. Sept 2011
---------------------------------------------------------
Road to China Rock
By Alan Baker
China rock was the place where we had the job of relocating the observation Tower used for spotting Artillery and bomb hits on a little rock that rose from the sea about a mile off shore in the China Sea.
The original site was being eroded by the sea and needed a safer base.
There was a dirt track road that led up the coast to the Tented Artillery camp where various units would take their turn at pulverising that little rock in the China Sea.
This dirt track was in a very poor condition and was also used by locals and the Bauxite mine personnel. It was particularly bad after a Monsoon.
As we were working in the area it soon became one of our projects to sort out the road with our plant equipment.
Construction troop members got the usual chunky jobs of cleaning ditches etc but there was one part that needed a bridge making,
There was a small tidal river that could be driven across at low tide or crossed on foot by a rickety old wooden bridge at high tide.
We had a very young 2Lt with us at the time and he drew up the plans for a bridge with concrete abutments with RSJ spans topped off with a concrete slab. It was a workable option but difficult to dig out suitable foundations in the mud without a lot of plant equipment to build some sort of cofferdam.
So our leader decided we would build on top of the mud with very little preparation to save time.
We needed abutments of 10 ft wide for the road way and about 30 foot back into the rocky bank to give a viable bridge. This also had to be sunk into the mud deep enough that it would not sink under it own weight and had to rise from the water at least 5 foot at high tide. In all both abutments needed a few tons of concrete. The abutments also had Armco pipe built in to ease the wear and tear of the tides.
Our leader went off to the local merchant for timber to build the shuttering for the abutments. He returned some time later with quarter inch ply board and 2X2 timber to build the shuttering with.
Most of us by this time had a fair amount of experience with concrete projects and expressed our doubts about the flimsy materials. We were assured by our leader that he had done the calculations, and all would be well.
The shuttering was duly constructed and we began mixing and pouring the concrete. When we had a depth of about 3 feet the shuttering gave up and burst.
The only saving grace was that we had a much better base to build the new stronger shuttering on.
From then on the job proceeded nicely and at the end only Geoff Mynette and myself were left to do a bit of plastering and rendering to the outsides of the finished bridge to give it a more professional look.
The only problem we had was sand flies and poisonous water snakes swimming around the bridge. We had been told by one of the RAF medics that the bite from these snakes would likely kill you unless you got treated very quickly after being bitten. Not a nice thought as we were on our own and had no radio contact with the people working up the road.
We were wearing shorts and the sand flies left no inch of exposed skin untouched. Our legs and arms in particular were a mass of tiny septic sand fly bite that itched like mad. Geoff Mynette was suffering really badly and was nearly cracking up.
To do the rendering on the outside of the bridge span I was using the angled wooden shuttering as scaffolding. This consisted of a beam fastened under the span with upright rakers to hold the vertical boarding in place. Once the vertical shuttering was removed the rakers were pushed down and made a fairly safe platform when a plank was put across.
I was at the mid point and above the deepest part of the river and enjoying the respite from the sand flies, as they seemed to prefer the bank side. Geoff by this time was sat on the bank rubbing furiously at the bites on his leg and almost in tears at the irritation of it all.
I chose this time to lean back and admire my work and promptly overbalanced. Arms wildly grabbing at thin air with my steel float luckily landing safely on the bridge I fell in almost slow-motion into the drink.
As the water closed over my head the thought of the sea snake hit me. I surfaced and some one screamed with an awful high-pitched wail and I realised it was me doing the screaming. I have never been much of a swimmer but I reckon that that day I could have beaten any Olympic champion as I ploughed to the bank.
The upside to this was the change in Geoff. Instead of being hysterical with the itching of the sand fly bites he was now holding his sides with hysterical laughter.
When he could get his breath he explained that he had watched me hit the water and bob back up heading for the bank like captain Hook being chased by the crocodile.
This triggered a reaction from me and neither of us stopped laughing for ages. Of course the story got better with the telling over a few drinks in the bungalow that night as we got pleasantly drunk with calamine lotion soothing our sand fly bites.
Its all a long time ago now but I can still remember the fear as I hit that water. I never liked snakes before and that did nothing to make me change my mind.
_________________________________-
Labuan
By Alan Baker
Labouan is a small Island off the coast of Borneo and in the early part of 1966 we were sent there from Singapore to build a large concrete area for the RAF to park their refuelling bowser lorries on. We travelled up in an Argosy aircraft that you could see daylight round the door seals and after the heat of Singapore we were all half frozen when we got to the higher altitude.
Some of the work we carried out there suffered from the lack of layout plans of the camp area. What plans we had were old and out of date. There had been years of hole digging and laying signal cables etc so no one really knew what was underground.
One of the jobs was to lay cable and pipes across the main perimeter road which was also the road to the main gate of the camp. As it was a busy road we had to close it off and carry out the work at night. This time we were assured that the plans of the road showed that there were no hidden obstacles to cause us any problems. We had been assured that the plans we had were the most up-to-date available. The road was closed at about 10 pm and proceeded to dig our trench across the road.
The trench was about 5 feet deep and good progress was made and by about 1 am we were at the centre of the road which, as it was a pick and shovel job was quite good.
At that point Taff Fisher uncovered a pipe. He shouted up to the staff Sgt, Taff Jones, to tell him what he had discovered.
With some irritation Jones said to break it out because there was nothing of importance shown on the drawings and he was impatient to get back to his bed. Taff was still loath to carry on and asked again If he should dig round it rather than break through.
More irritation from the S/Sgt, So Taff, carried on.
The pick swung down and the sound of metal on metal was heard. "Staff this is a metal pipe and its going to be hard breaking it out". "Just get on with it" was the only comment.
More metal on metal noises then a comment from Taff that there appeared to be water coming from the pipe.
"It will be ground water", said Jones, "just keep hitting it".
Taff did as he was told and suddenly the water was spouting above the trench and Taff was scrambling out.
We had of course hit the water main that carried the camp and airfields water supply.
The next day we had the scruffiest RAF personnel in the Far East because there was no water to wash with. Breakfast was delayed until emergency water supplies were brought in and our name would have been mud if it weren't for the fact there was no water to make mud with.
This was not the only time we suffered the consequences of inadequate plans and drawings. We also managed to take out the communications to the control tower and Signals Unit after being told that the area we were digging was virgin ground. The area turned out to have all the signal cables for Airfield under it.
Once again it was the result of poor record keeping by the MPBW. It was after all their responsibility for the camp infrastructure. Most of them were Civilians from the UK who spent their time knocking back pink Gins in the Mess leaving the donkey work to Local Workers. ( I am sure that some of them were highly qualified and hard working, its just that I never met them.)
Despite all of our problems the main tasks were completed in good time by working flat out for 12 hrs a day. Although we did still find time to have some very entertaining parties.
-----------------------------------
Darts with the Signals section
By Alan Baker
A monumental Darts tournament with the Royal Signal section is a very strong memory. Tiger beer was flowing freely and curry and sandwiches were laid on as a buffet.
The curry was a very hot one and I at that time did not like curry very much. So after trying a little I had to discard it and grabbed sandwiches instead.
To my amazement someone fed the curry to a stray dog that had been adopted by some one. The dog wolfed it down with no apparent harm. I don't know why but I had assumed that dogs would dislike curry as much as I did.
I won my match against the Signals bloke I was playing against.He said, because he had lost it was their tradition that he buy the beers. The only problem was he brought two beers. Then we won the match overall and this bloke turned up with two more beers. I was already past my limit but honour dictated that I did not abuse his hospitality so I had to drink them.
I woke next morning wrapped in my mosquito net on the floor by the side of my bed. During the night my arm and face must have been outside of the net and the mosquitoes had made a meal of it.
I went to work that morning with itchy bumps and an eye like I had been in a fist fight and the hangover from Hell.
I would like to say that it taught me a lesson but sadly it didn't.
I had my twenty-first birthday in Labuan. It fell on a day when my money had trickled to a sad pittance. So when every one went to the Malcolm club I waited a while so that there would be a shorter drinking time.
When I arrived there, people on hearing it was my birthday started to by me drinks. Yes, you have guessed it, I ended up on the floor covered in bites again with another hangover. This time it did slow me down. I did not drink more than a pint tops for some months until going out with Geordie Aston and Frank Hughes one night in Bugis Street. That's another story altogether though.